Atty. Robert Earl Bull, age 100, lifelong resident of Nescopeck passed away on Friday, February 24, 2023, at his home, surrounded by his loving family.
Born in Nescopeck on October 9, 1922, he was a son of the late Ira D. and Hazle H. (Eddy) Bull. He graduated from Nescopeck High School in 1940 and continued his education, earning his BA at Dickinson College, Carlisle, Pennsylvania.
With the onset of World War II, he was able to enroll in Dickinson Law School after his sophomore year in college. Thereafter, in 1943, he enlisted in the Navy and served in the South Pacific on the LST 918 during the invasions of New Guinea, Leyte, Luzon, Okinawa, and the Occupation of Japan. Additionally, he was inducted in the Silent Mysteries Of The Far East, having crossed the 180th Meridian in 1944. He was also very proud to have been inducted as a Trusted Shellback having crossed the Equator in 1944 also. At the time of his honorable discharge, his rank was Lieutenant JG.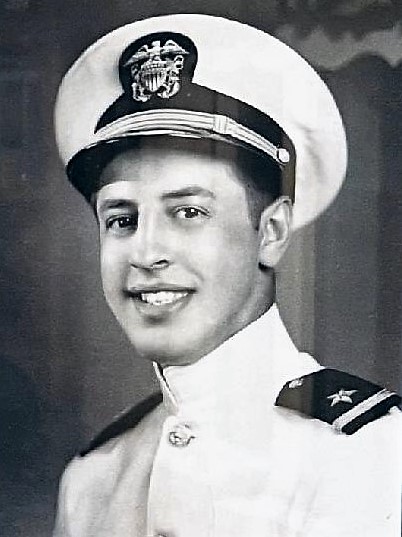 At the conclusion of the war and after receiving an Honorable Discharge, he returned to Dickinson Law School and graduated in 1947 with a Doctor of Jurisprudence degree. Subsequently, he was convinced by his college football coach who also was a college professor, that he should return to college to get his undergraduate degree. To quote his professor, "You will also need a spot on your office wall to cover up a crack". Therefore, he actually graduated from law school prior to graduating from college.
In June of 1946, he married the love of his life, Sara E. (Hoffman) Bull. They celebrated over 49 years of marriage before her passing in 1995.
In 1949, he opened his law practice, which in 1977 became known as Bull and Bull LLP, when his son, Robert A. Bull, joined his firm. Although years later, he reduced his work hours, he never officially retired, and his desk and chair were always available for him.In 1956, he was first elected to the Board of Directors at The First National Bank of Berwick, now known as First Keystone Community Bank. He served as Chairman of the Board from 1981 to 2017, at which time he was respectfully named Chairman Emeritus. He remained on the Board of Directors until his retirement in 2022, when he was named Director Emeritus.
He was a lifelong member of Wesley United Methodist Church, Nescopeck, Pennsylvania, where he was a Sunday School teacher for the Adult Class for over 40 years. Additionally, he served on the Administrative Board, Finance Committee, and Board of Trustees for many years. He also chaired the Building Committee for the Church's major building expansion project in 1986.
He was very involved in his community, having been a member and past president of the Berwick Kiwanis Club and Berwick Jaycees. Additionally, he was a member of the Berwick Moose Club and Berwick Golf Club. He also served on the Board of Directors of the Berwick Hospital and the Berwick Cemetery Association, both for over 40 years.
His fraternal affiliations involved being a member of Knapp Lodge, No. 462, Caldwell Consistory, and Columbia County Shrine Club, and also participated in the Irem Shriners annual circus.
Professionally, he was a member of the Pennsylvania Bar Association, including several terms as a House of Delegate for the 26th Judicial District. He was also a member of the American Bar Association, the Columbia-Montour County Bar Association, and the Luzerne County Bar Association.
He excelled in football, soccer, basketball, and baseball while in Nescopeck High School, and was sought after by the Cleveland Indians major league baseball team as a pitcher. In college, he played football prior to the outbreak of World War II. He remained very interested in sports at all levels, but especially Berwick High School football and basketball (both girls and boys). He was the proud sponsor of the Diamond Pendant for the First Place Female in the annual Run For the Diamonds race held on Thanksgiving Day by the Berwick Marathon Association.
In his later years, he was a member of the Berwick Historical Society, and when the Society was given the opportunity to restore the Jackson Mansion, he was proud to sponsor the complete restoration of the Family Parlor Room, as well as sponsoring the annual Tea, in memory of his late wife, Sara.
He will be greatly missed by his beloved children: Kathleen O. Wiest and husband Carl, West Lawn, PA; Attorney Robert A. Bull and wife Trinell, Berwick; William D. Bull and wife Beverly, Berwick; and Constance L. Honeywell and husband Timothy, Nescopeck; 10 cherished grandchildren; 15 adored great grandchildren; and numerous nieces and nephews.
In addition to his parents and wife, he was preceded in death by his sister, Starrling O. Bull; and brothers, Dr. Charles C. Bull and Dr. I. Dean Bull.
A viewing will be held from 5:00 to 8:00 pm on Tuesday, February 28th at Heller Funeral Home, LLC, 633 E Third St, Nescopeck.
The funeral service will be held at 10:30 am on Wednesday, March 1, 2023, at Wesley United Methodist Church, 401 Broad St, Nescopeck with his pastor, Susan Knorr officiating. Family will receive friends from 9:30 until the time of service.
In lieu of flowers, memorial contributions may be made to Wesley United Methodist Church or Nescopeck Borough Civic Pride Committee, 501 Raber Ave, Nescopeck, PA 18635.
Online messages of comfort may be sent to condolences@HellerFuneralHomeLLC.com.